Outpatient Rehabilitation at Springhill Medical Center offers quality care in a comprehensive multidisciplinary setting. From pediatric to geriatric, all ages are welcome. Services include:
Physical Therapy
Occupational Therapy
Speech Therapy
Rehabilitation is offered in Springhill Medical Center's Inpatient, Outpatient and Skilled Nursing settings. Our therapists aim to provide evidence-based, client centered services with patient goals and independence at the core of each treatment. Our goal is to meet all of your needs.
Most major insurances accepted, as well as Medicare, Medicaid, Visa, MasterCard, personal checks and/or cash. Please contact the Outpatient Rehabilitation department at Springhill Medical Center, to schedule an appointment. Gain or regain your independence today.
" Springhill Rehab has been a great motivational experience. The staff is great, all my therapists are helping me thrive to get better as I progress on my journey to walk again. My main therapist, Brandon, pushes me every week to do what I thought I couldn't. He is excellent. I have come a long way in 2 months, so proud of my accomplishments. Thank you to all the staff. "
Ms. Robinson
— Outpatient Rehabilitation Client
Scheduling Appointments
Upon referral by your physician, appointments should be scheduled in advance prior to the first visit. For an appointment at our Outpatient location on the Springhill Medical Center campus, call 251.340.0688. Please arrive approximately 30 minutes prior to your initial visit to complete the necessary forms. We will be happy to assist in processing your appropriate insurance claim forms.
Helpful Hint: to reduce the wait time during the initial registration process, download and fill out the Rehabilitation Patient forms prior to your visit.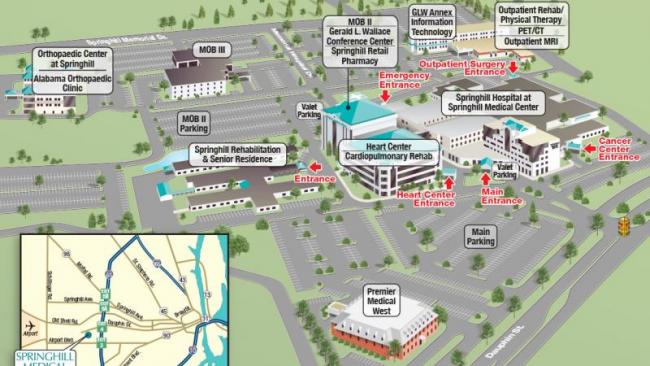 Contact Us
Springhill Medical Center Campus
(Located in the GLW Annex)
251-340-0688 • 251-340-0850 (fax)
Open: Monday - Friday, 8 a.m. - 5 p.m.
Directions & Parking