Springhill Medical Center continues to enhance policies to keep our patients and employees safe throughout the Coronavirus (COVID-19) pandemic.
Visitor Restrictions (Updated July 15, 2021)
Springhill Medical Updated Visitor Policy
Effective July 15th at 12pm, the hospital will suspend visitation related to the increased prevalence of COVID-19 in the community. Because of our commitment to keeping your loved ones safe and well cared for, we are suspending visitation until further notice. Visitors will be allowed inside the hospital for special circumstances with prior authorization.
For The Birthing Suites, will return to allowing only the significant other for delivery. Grandparents can visit the day after delivery and will be required to come though the main hospital entrance. However, this can only be two visitors at a time and no children at this time.
Any visitors with cold or flu symptoms will NOT be allowed to visit. All visitors are required to wear masks the entire time they are in the hospital, including the patient rooms.
Please understand all restrictions we are placing on visitors to our Birthing Suites are to protect our Mothers and their new babies. We need your help and cooperation. We are not allowing any non-essential visitors to our unit at this time. This includes personal photographers. Our hospital photographer will be screened daily. We will be providing an ID band to each visitor to allow them access to the unit. Masks are required to be worn at all times in the building, including in the patient rooms. You may be asked to leave and visitation restricted if you cannot comply with our requirements
We appreciate your understanding during these uncertain times. We are confident that together we will continue to deliver the highest quality of care.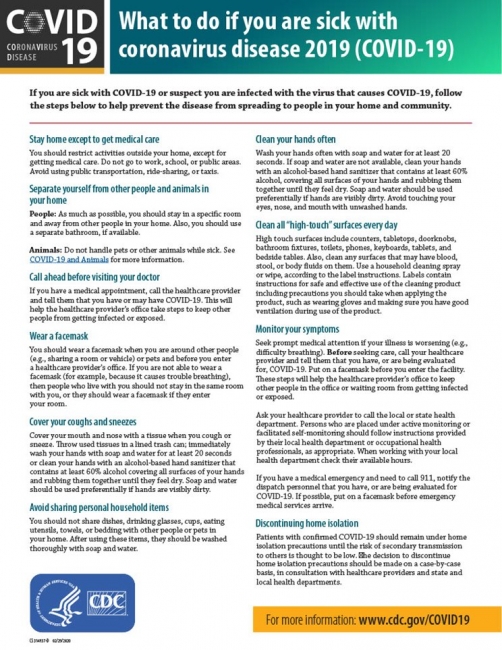 What to do if you are sick
The Alabama Department of Public Health has set up a hotline for people who are concerned about whether they need to be tested and where testing is available. That number is 888.264.2256.
Download Fact Sheet