Posted On: April 21, 2022
Springhill Medical Center continues to enhance policies to keep our patients and employees safe throughout the Coronavirus (COVID-19) pandemic.
Visitor Policies (Updated April 21, 2022)
Springhill Medical Updated Visitor Policy
Springhill Medical Center has been working diligently to safely open visitation while protecting our patients, visitors, and staff from incidental COVID-19 exposure as per CDC guidelines. Our updated visitation policy is as follows:
COVID-19 Inpatients
COVID-19 positive patients or symptomatic PUIs (persons under investigation) will not be allowed to have any visitors present at the bedside except in end-of-life situations.
Non-COVID-19 Inpatients
Two visitors will be permitted on all inpatient (non-critical) units.
The visitors will be allowed to rotate with others during visiting hours, but only two visitors at a time as we continue to recognize the importance of reducing unnecessary exposure.
Visitors must:

Follow Universal Masking Guidelines: Patients and visitors should be wearing their own face-covering upon arrival to the facility and must wear it at all times. If they do not have a face covering, a face mask should be offered as supplies allow, which should be worn while they are in the facility. Face coverings can be made of a variety of materials, including cloth, for the purpose of Universal Source Control. Individuals who are unable to wear a mask will not be able to visit due to the increased risk of disease transmission.
Agree to practice appropriate hand hygiene and limit the touching of surfaces in patient care areas.
Stay in the room: Visitors are asked to remain in the patient's room with a mask on at all times.
Comply with entrance screening: Visitors will only be allowed through the front lobby of the hospital with active visitor screening upon entry.

Entry will be denied to anyone who screens positive for symptoms of COVID-19 such as a temperature above 100.4, cough, or shortness of breath.
End-of-Life Guidance
Visitors will be required to follow all instructions from clinical staff related to hand washing, PPE, entry/exit, length of time with the patient, etc.
Emergency Department
Two visitors will be permitted once the patient has been assigned to a room or area.

The visitor will be screened on admission. If the visitor does not pass screening, they will not be allowed to enter the facility.
Visitors are to remain in the patient's room and will be required to wear a mask at all times.
The visitors will be allowed to rotate with others during the ED visit.
COVID-19 positive or Symptomatic PUI patients will not be allowed to have any visitors.
Observation/Outpatient Surgical Procedure Guidance
Two visitors per patient will be allowed to visit during their pre-operative period.
If the patient is admitted, visitors will follow the inpatient visitation guidelines.
Labor and Delivery
Two visitors may stay overnight with the patient for the entire stay.
Two visitors will be permitted to visit between the hours of 9 a.m. until 9 p.m. They can rotate two at a time.
Any visitors with cold or flu symptoms will not be allowed to visit.
Special Circumstance Visitors
Special Circumstance Visitors will be required to follow all other guidelines including screening, universal masking guidelines, and remain in the patient's room at all times. Overnight visitors will be required to get tested for COVID-19 and wear an armband at all times.
The following visitors will be allowed into the hospital and not restricted to certain hours:

End-of-life care, including clergy visitation for end-of-life care and patients who have elected hospice and are pending discharge.
Labor and Delivery
Pediatric care where the parent or legal guardian is required.
In-person training of caregiver is considered essential and may permit training more than one caregiver providing social distancing and other precautions are maintained.
Reasonable access to support person(s) for patients with disabilities, for example, patients with cognitive or developmental disabilities who require the presence of a legal guardian.
Hours of Visitation
Visitors will be allowed to enter from the hours of 9 a.m. until 9 p.m.
ICU and 3500 hours will be in 30-minute increments. Two visitors at a time for critical care areas.
Visitors will be allowed to enter the ICU/3500 from 9 - 9:30 a.m., 1-1:30 p.m. and 4:30 - 5 p.m.
Mask Requirement
Masks are required to be worn at all times in the building, including in the patient rooms. You may be asked to leave and visitation restricted if you cannot comply with our requirements.
We reserve the right to restrict visitation at any time to protect and maintain the health and safety of our patients, visitors, and employees.
We appreciate your understanding during these uncertain times. We are confident that together we will continue to deliver the highest quality of care.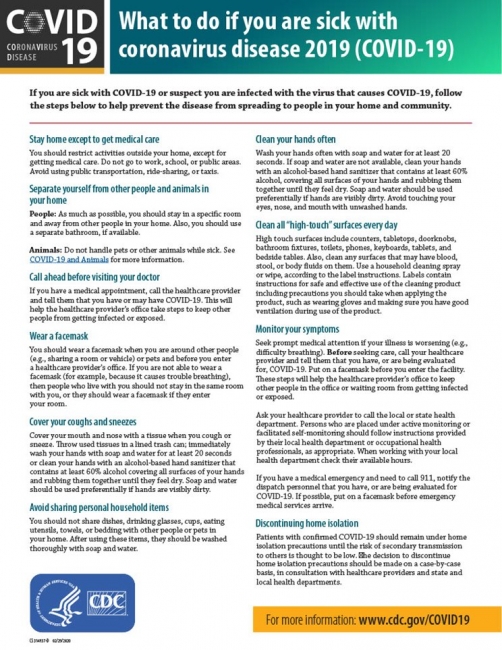 What to do if you are sick
The Alabama Department of Public Health has set up a hotline for people who are concerned about whether they need to be tested and where testing is available. That number is 888.264.2256.
Download Fact Sheet